[Last updated: Sun 25 Apr 2021]
Make sure you're loyalty is rewarded next time you book hotels, book flights, or any other travel product.
Competition between online travel agencies is fierce. Always trying to outdo each other, one major area of competition is their loyalty programs. It's also one area where they have a clear advantage over their meta-search equivalents. We all know the margins for online travel agencies usually aren't very high, so you'll often find that after the loyalty discount, sites are selling flights and hotels at almost cost price. Read on to find out how to make your dollar go further!
Trip.com - Trip.com Rewards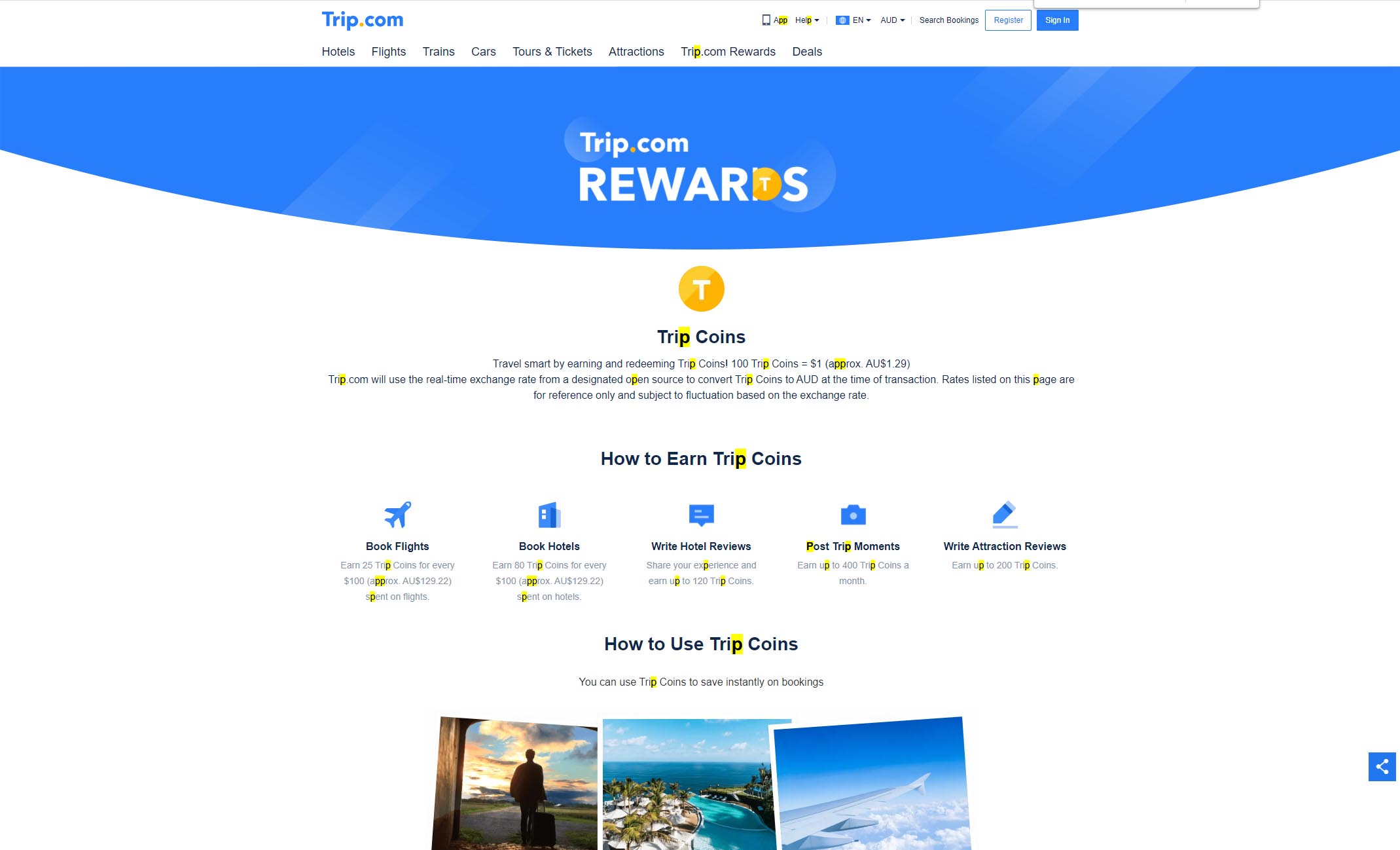 Trip.com's booking program is certainly an interesting proposition, but the dual tier and coins based system can be hard to follow at times. At the basic level are what they call Trip Coins, which are basically the equivalent of reward points, with each Coin being worth 1 US cent. Whenever you make any kind of booking on their website, you'll earn a certain number of Trip.com, with the amount of Coins being tied to the transaction value and which product you are booking. The great thing is that you can earn Trip Coins on not just hotels, but also flights, trains and tickets and tour products. In fact, you even earn a small amount when purchasing Gift Cards.
The other clear advantage is that you can spend those Coins on absolutely anything you want. While other programs like Expedia have restrictions where the points can't be used to purchase flights, there's no such thing on Trip.com. You earnt them, you spend them! I personally like to use them to pick up a few smaller items on Trip.com like attraction tickets and SIM cards. We personally found once when booking a weekly hotel stay we earned enough Trip Coins to book an airport transfer for free. Usually them is also easy, there's no extra steps to go through, just wait to you get to the payment page and select Trip Coins, where you can select how many coins you want to use. There also doesn't appear to be any limit with the payment method you match it to, so you can pay any remainder with credit card, PayPal, Apple Pay or any other method you might like.
One obvious disadvantage of this system is that the points are tied to USD, which means that the value of the coins might appreciate or depreciate against your local currency.
So how much do you earn? Well that will depend on the product. For flights you can earn 25 Coins per $100USD, or approximately 0.25% of the total price. For hotel you can earn 80 Coins per $100USD. When you look at it like that, the earn rate seems extremely low.
We often find that some hotel rooms have bonus Trip Coins attached to them where you earn 600 extra coins. These offers seem more lucrative that earning Coins through booking directly, however they'll only work in your favour if you happen to come across a deal to where you are going.
Trip.com also has a tiered membership program. You start off as a silver member, and then progress though Gold, Platinum and Diamond tiers. It seems there are two main benefits from rising up the tiers. The first is that you'll save more on hotels, 5% for Gold Tier, 10% for Platinum Tier and 15% for Diamond Tier. Bear in mind though that these are maximum savings, it's not a blanket saving, you still have to go looking for these member-deals. Unfortunately we didn't find that there was an easy way to discover these deals, like most sites you basically have to come across them yourself. However Trip.com claims to offer these member-only deals on over 80,000 hotels, so there's bound to be quite a few deals in the city you're traveling to. The other big advantage is that you earn extra Trip Coins on top of the normal amount – an extra 10% for Gold members, and 30% for Platinum and Diamond members to be precise. From what we've seen on Trip.com, they permit stacking the discounts, so you can get the normal amount plus 30% plus the bonus amount on particular hotels. All of a sudden you can be getting a much better deal.
So how do you go up a tier? Simply, you need to earn tier points. And how to you earn tier points? Simple, book flights and hotels. And how many tier points do you get for each booking? We'll, that's where it gets murky. Trip.com doesn't actually tell you how many bookings (or of what value) you need to make to earn tier points which is very untransparent. Most of the competitor sites state a clear number of bookings or dollar amount you need to spend to go up a tier. The other disadvantage is that much like an airline, tier points are only based on what you spent over the last 12 months, so you'll go down in tier over time if you're not booking.
Check Price

Hotels.com - Hotels.com Rewards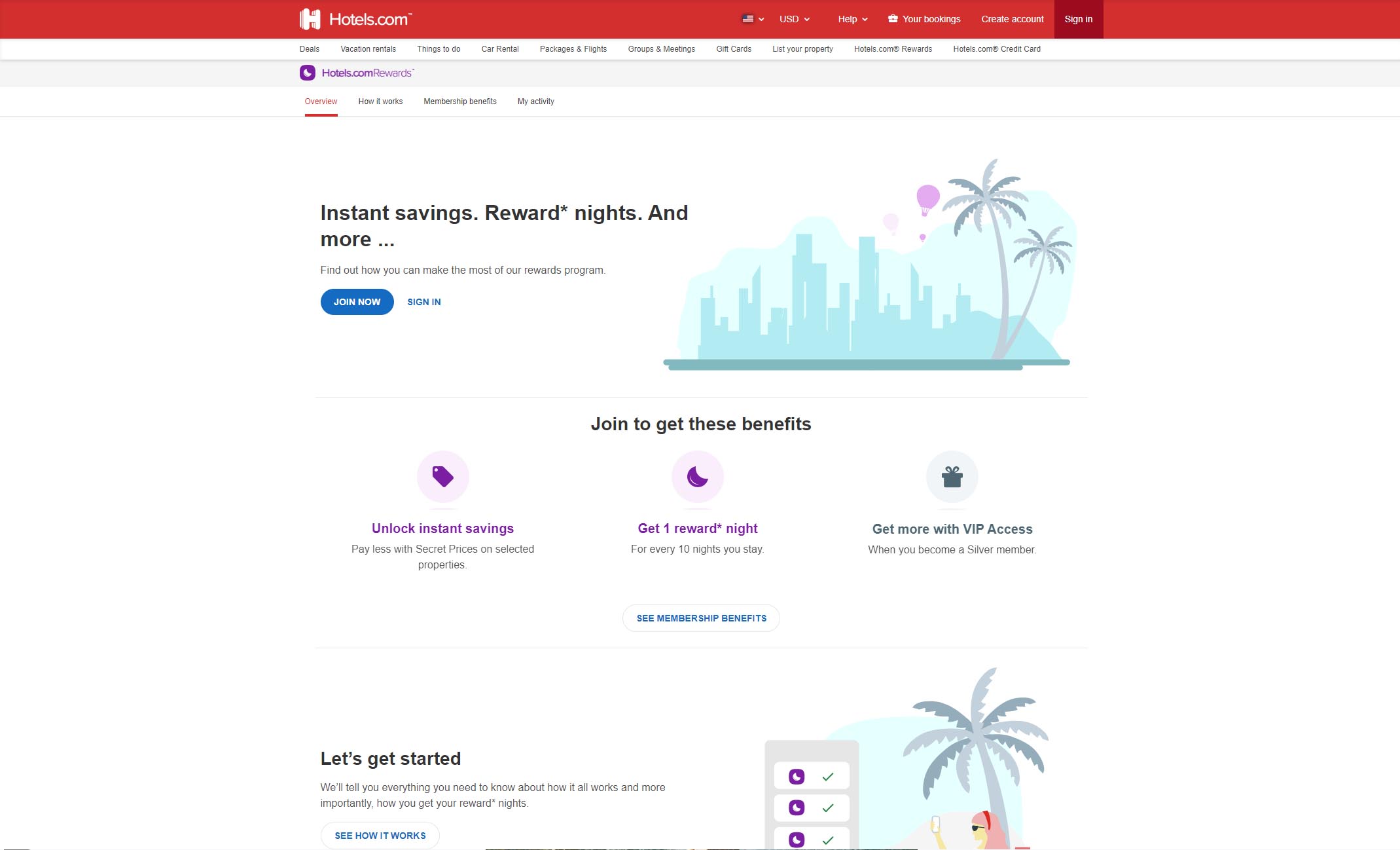 Hotels.com has without a doubt what is the best-known loyalty program. Offering 1 free night for every 10 nights stayed. On the surface this seems like it's clearly the best deal, saving you around 9% of every booking, but is it really? Read on for our thoughts.
Each night you book on Hotels.com with participating hotels, of which there are over 1 million of, you'll get a stamp. Collect 10 stamps and you'll get a free reward night – sounds pretty good. Overall it is, but there's still a few small catches to watch out for. First of all the value of the free night is equal to the average of your 10 stamps, so if you stayed for five nights at a hotel worth $100 per night, and five nights at a hotel worth $200 per night, your stamp would be worth $150. However the value is the pre-tax value, so it might be a bit lower than you were expecting. Furthermore your reward night can only be used for the non-tax portion of your stay, you'll still need to pay the taxes. If your reward night is worth less than the room you want to book, that's no problem, you simply pay the difference. However if your reward night is worth more you don't get to keep the difference, it's forfeited. You also need to take into account that you need to prepay your room online, you can't book any pay at the hotel. Like with most programs, thing expire in 12 months, in this case both your stamps and reward nights.
A few other minor things to look out for. 1) You don't collect stamps when if you use a discount coupon and 2) You don't collect stamps if you're making any kind of package booking, only when you're booking accommodation on its own.
Hotels.com also has a rewards program, where you get with a basic tier which you automatically get when you sign up, plus a silver tier and a gold tier. At the basic level, you earn the right earn stamps/reward nights, as well access to cheaper rates, labelled as "Your Secret Price". Only you collect a total of 10 stamps, you not only collect your reward night, but you also get promoted to the silver tier. At Silver tier you get some extra benefits at VIP Access hotels like free breakfast, Wi-Fi and spa vouchers. Make sure you compare properly though as these room are often above the normal price, meaning your discount isn't as big as it might normally be. You also get to take part in their price matching program, where if you find a cheaper price on a competitor's site, they'll price match it and refund you the difference. You also get priority customer service, however how much benefit this is isn't really clear. Once you collect 30+ stamps you'll be bumped up to the Gold Tier, which basically just extends the benefits you get on the silver tier, including early check-in and late check-out on selected properties.
Check Price

Booking.com - Booking Genius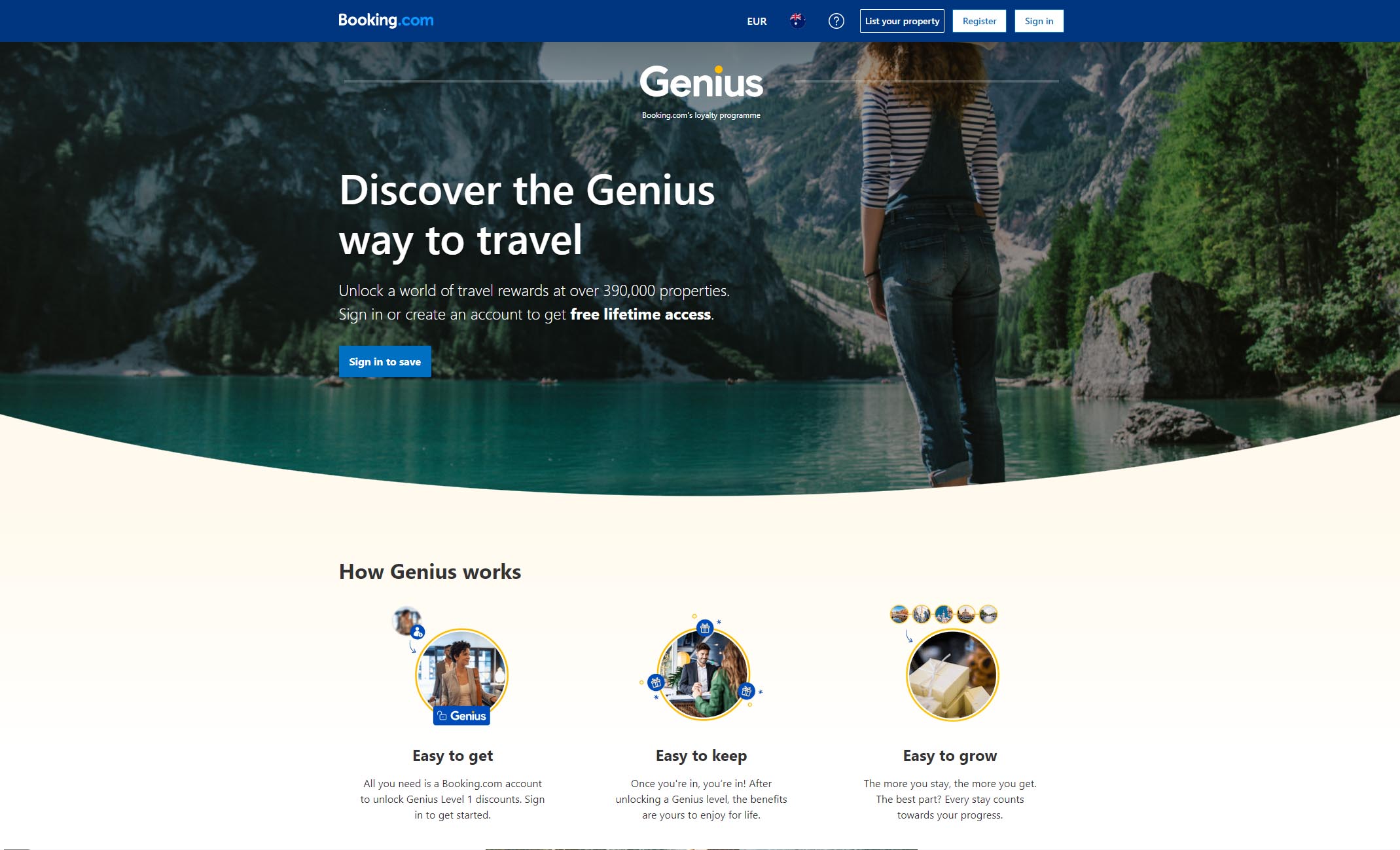 Booking.com brands their loyalty program as the Booking Genius program. So is the program so much better than others that it's worth waiting for. Keep reading to see our detailed analysis.
It used to be the case that unlike most of the competitors you're not automatically enrolled when you sign up, instead you need to make two bookings first before they give you the nod. But it seems lately that Booking.com has dropped this requirement in an effort to simplify their program. And simple it is. These days you become a Booking.com Genius Level 1 just by signing up. This entitles you to a 10% base discount on participating properties in the Genius program, of which they claim there is around 390,000 of. Note that it's 10% off the BASE price, which actually means before taxes. So in other words, the amount you'll save is actually less than 10%.
If you have 5 bookings within two years then you'll get bumped up to Level 2. That will bump of the discount on the previously mentioned properties to 10%-15%, as well as make you eligible for free breakfasts and free room upgrade also. These are only on select properties though, you want find them on all.
One of the better aspects of this program is that you get your tier for life, it will never expire! With other programs you normally need to make a certain number of bookings within 12 months to keep the status.
Check Price

Expedia - Expedia Rewards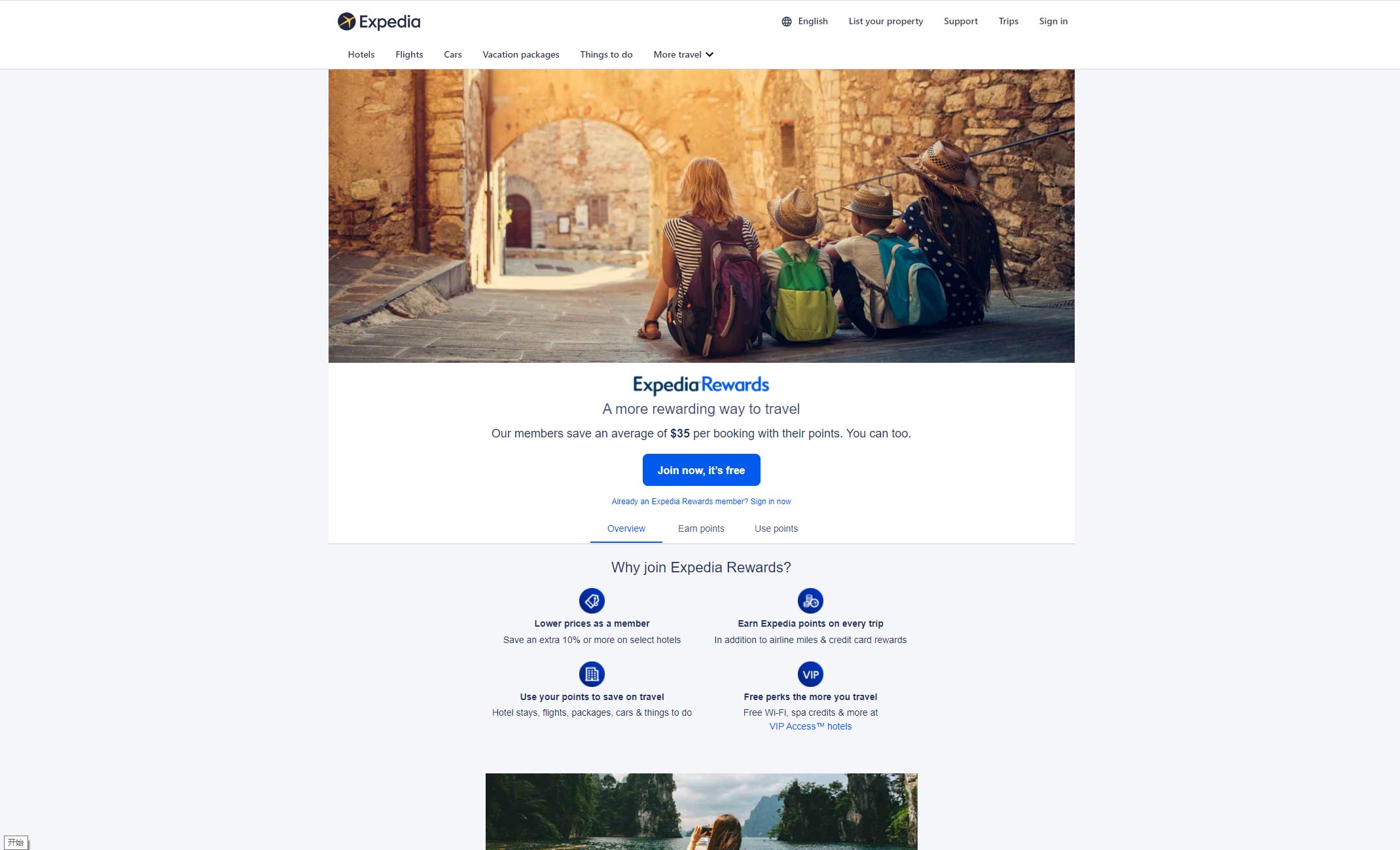 Like most other online travel sites which offer a wide variety of products, Expedia's loyalty program is two part. On one hand you earn Expedia Points on your bookings which can be put towards other products. On the other, you have a tier-based system which primarily unlocks bigger hotel discounts as you progress up through the tiers. Let's jump in and take a look to see how it compares with its competition.
When you sign up as a member with Expedia you'll start off as a Blue Member. One of the main benefits you get as a member is the ability to earn reward points on all of your bookings – we'll cover this a little bit later. You also get to take advantage of the Expedia Hotel Price Guarantee, where they'll match the price and refund you the difference if you see the same room and hotel at a cheaper rate. You'll also earn 3x the points when you book VIP access hotels, which are a select group of hotels which Expedia has special deals with. Of course, you have to be a blue member to earn points anyway so this isn't particularly special. The biggest advantage that signing up as a member brings however is the access to member prices, where you can save an extra 10% of more on hotel prices. Their website also claims that you get early access to certain sales and events. Details on this are fairly light, however most likely it means you get the privilege of being on their email marketing list. These list however are known to deliver excellent prices from time-to-time with rates which the online travel agencies can't reveal through their website.
The next tier up is the silver tier. To get access to this you'll next to book 7 nights through Expedia or spend $5,000 in one year. Remember that flights will count towards the $5,000, but they won't count towards the 7 nights. And what do you get when you reach this tier? The first thing is that you'll get an extra 10% points on all of your bookings. A nice little addition but hardly worth getting excited about. The next is that you'll get free perks at VIP access hotels, with things like free Wi-Fi and free breakfast coming bundled together with some of the hotel deals. If these happen to be what you're after then this can be a great deal, but more often than not we found we'd have to stay somewhere that wasn't optimal for our trip in order to receive some of these benefits. More importantly, Silver Tier comes with a special, expedited phone number for customer service. Given Expedia's well-known long waiting times for phone support this could really come in handy. Having said that, if you're booking hotels it's unlikely that much will go wrong so you'll rarely be contacting customer service anyway. If you're booking flight however, that likelihood is a little bit higher.
Last but not least is the coveted Gold Tier, which you'll reach after booking 15 hotel nights or spend more than $10,000 in one year. To start with, the amount of bonus points which you get will be bumped up to 30% over the standard rate. Furthermore you get access to even more perks at VIP access hotels such as free Room Upgrades. Once again, theses are limited to certain hotels. And finally you get, yet again, a different customer service phone number only for Gold Members. So basically, Gold membership gets the same advantages as silver membership, but a little bit better. Personally we'd like to see something really exclusive happen once we get to the highest tier, but it seems it's not to be.
The other part of the Expedia Rewards program is the ability to get points on your bookings. The basic earn rate is 2 points for every $1 that you send of hotels and most other products expect for flights, which attract a much lower rate of 1 points for every $5 that you spend, a whopping 10x lower than the hotel earn rate. You'll also earn points at double the rate when you book on the Expedia app, and triple the normal rate when you're booking a VIP access hotel.
To use your points you simply select the option at the time of payment. You can use them on hotels, rental cars, things to do, packages and flights. However with flights you can only use them if you have enough points to cover the entire flight. This is a pretty massive caveat in our opinion – while flights might have a lower profit margin for Expedia you earnt the points fair and square and should be able to use them however you like. And the most important question is how much are they worth. Well, 140 points are equal to $1. If you go and work it work, this means that for every $7,000 you spend, you'll get rewarded 14,000 points or $100. This makes the earn rate a little over 1.4%.
Check Price

Compare Reward Programs
Site
Hotel Earn Rate
Flights Earn Rate
Earn On Other Products
Tier Discount (Hotels)
Booking.com
N/A
N/A
N/A
Genius Level 1: Up to 10% off base price
Genius Level 2: Up to 15% off base price
Expedia
1.4%
0.14%
Yes (Cars, Packages, Things to Do, Cruises)
Basic: Up to 10%
Level 2: Up to 15%
Trip.com
0.8%
0.25%
Yes (Car rental, Airport Transfers, Tickets and Tours, Trains)
Gold: Up to 5%
Platinum: Up to 10%
Diamond: Up to 15%
Hotels.com
Yes
Yes
N/A
Basic: Up to 10%
Level 2: Up to 15%
Other Related Reading