[Last updated: Sun 07 May 2023]
Unfortunately, travelling isn't cheap! When it comes to handing over a big bunch of hand earned cash people understandably get nervous, especially when it comes to dealing with brands and websites which they might not be so familiar with. You've probably come here as you've come across a great deal on the Trip.com website or mobile app and are wondering if this service is legit or not. Well, fear not, we're here to tell you that it is. We've used it personally for a large amount of travel and always found that it compares favorably to other online travel agencies. Read on to find out what we know.
To start with the origins of the Trip.com brand start more than 20 years ago in 1999. Established in China to serve the Chinese market, it eventually created an English (and multi-lingual) version and rebranded it's non-Chinese business as Trip.com in around 2018. The company is listed on the US Nasdaq under the TCOM ticker (since 2003) and is currently valued at around 25 Billion USD, so it's hard to argue that they're not a massive company. With over 30,000 staff around the world according to their Nasdaq filings, we're certainly not talking about a small fly-by-night operation. And perhaps more importantly, while many small travel companies collapsed during the pandemic, Trip.com was left standing.

Trip.com the website is actually owned by Trip.com Group, which owns the Trip.com brand as well as China's biggest online travel agency, Ctrip. What you might not know is that they outright own Skyscanner as well, the world's top flight meta search engine. They also own Travix group which operates a number of travel websites in Europe, as well as owning significant stakes in companies like MakeMyTrip, the biggest online travel agency in India. With such a global footprint, we're talking about a truly global company.

So, what are people saying about Trip.com?

One of the top search results for Trip.com is for the reputable review site, TrustPilot. Taking a look at Trip.com's profile we can see that they currently have a score of 3.9 out of 5 which is quite reasonable. Typically online travel agencies tend to rank poorly on these types of websites as they attract people looking for somewhere to complain in public, but people who have had a good experience won't normally go and seek them out to leave a review. If we take a look at Trip.com's main competitors, Booking.com scores 1.2/5, Expedia 1.1/5, Agoda 1.5/5 and Hotels.com 1.3/5 – so Trip.com is miles ahead in this respect. We can also see that Trip.com has a registered profile with registered domain name ownership and a registered bank account. Crucially, we can see that Trip.com also replies to 85% of negative reviews, and typically within 2 days. Most of the competition doesn't even seem to bother in this respect.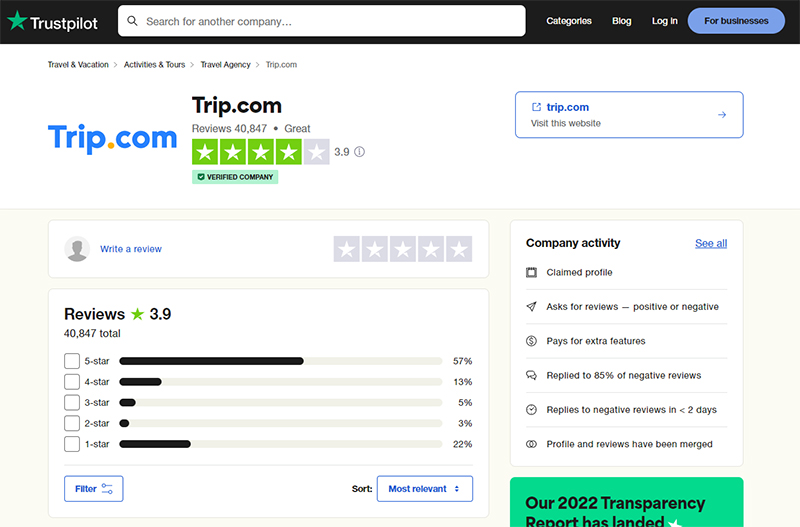 Similarly if we check out Trip.com on either the Google Play or Apple App Store we find that the mobile app scores fairly highly, with a score of between 4.4 and 4.8 depending on which country you are browsing from. In addition, on Google Play alone we can see that the app has had over 10 million downloads. You can read the reviews for yourself, but we can easily tell from the high overall score that the app is legitimate.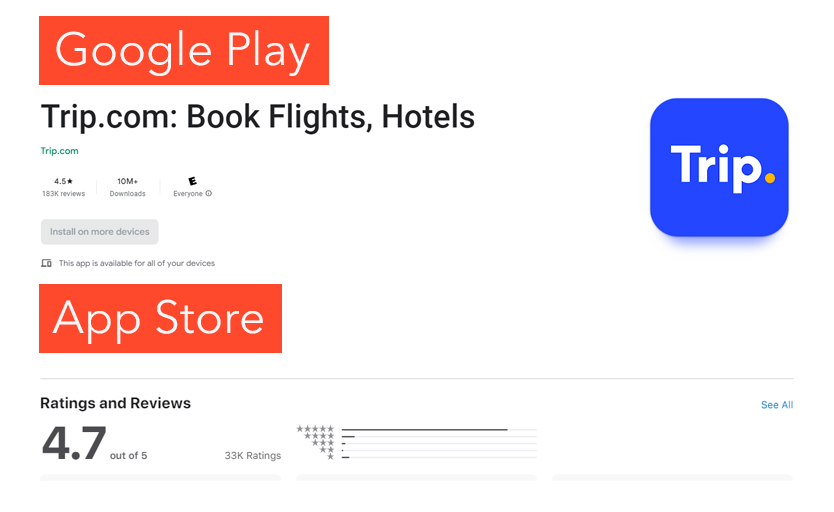 We can also learn several other things from the Google Play store listing, the first is that all data is encrypted in transit which is a great start. We can also see that the app has a feature which allows users to request their data to be able to be deleted. With 178k reviews on Google Play and 33k review on the App Store, these kinds of number are impossible to fake.

When it comes to their website we can see that it uses HTTPS for secure browsing. While this is common place amongst almost all travel sites these days it's good to see Trip.com is living up to the standard.
How else can we see that they are indeed legitimate? First of we can check their company LinkedIn profile, both for Trip.com (the brand) and Trip.com Group. The first thing you'll notice is that they have a significant amount of jobs advertised for various roles in various countries around the world. And if we look at what they are posting we can see videos and interviews with their staff and offices, as well as commercial deals they are signing and industry events that they are attending. At the time of writing they've just signed a deal with Amazon Web Services to build a joint innovation lab, signed an MOU with Tourism Fiji, and detail what initiatives their staff are taking part in in terms of environmentally sustainable development.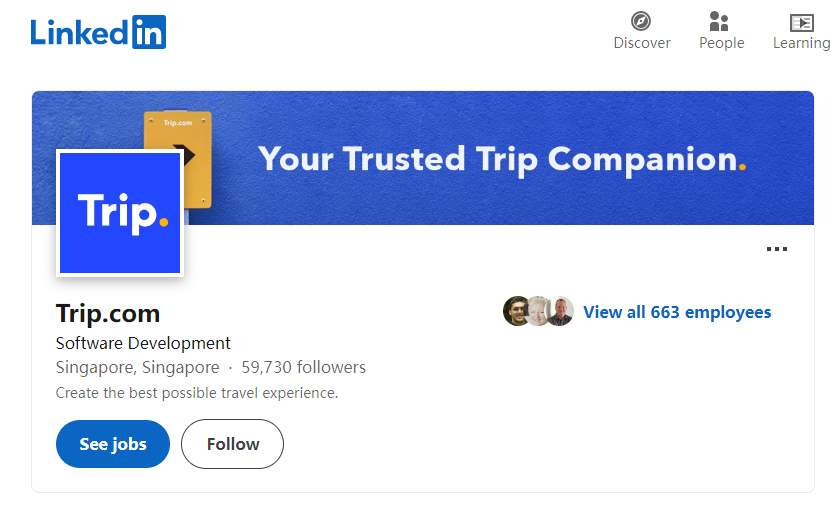 One thing that many online travel agencies (OTAs) do poorly is make it very hard to reach their customer service, however this doesn't appear to be the case with Trip.com. Not only do they have their Chat feature which was always answered instantly during our tests, but they also have phone and email options listed. In terms of phone support, we tested this twice and calls were always answered basically straight away. There's some text on their website which says "Calls are usually answered in 30 seconds, no matter what time you call us" and our tests certainly confirm that. Not only that, but you can actually find their phone numbers before you have made a booking, whereas with some other services you only get their support number once you have made a booking. I guess if you're really worried you can give them a call yourself and see if they pick, they have local numbers in more than 30 countries. We haven't tested their email support, but the fact they have this openly available is always a good sign.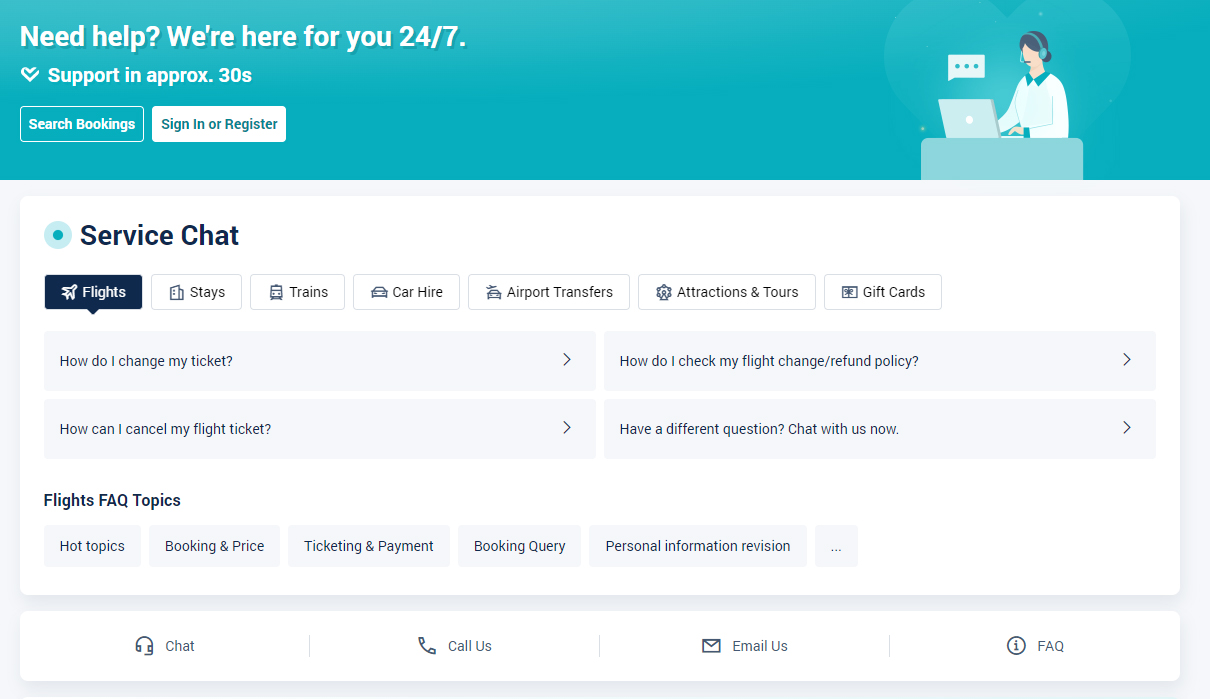 To establish whether or not Trip.com is legit we should also look at their industry connections. When we look at their promotions we can quickly gather this information. From just looking at their various homepages in different countries we can see that they have many cooperations with local and international tourism boards, reputable banks, global payment processors like Visa and MasterCard as well as a huge amount of airlines and hotel chains. If you've taken a look at their LinkedIn page this will come as no surprise as they are always advertising for business development (BD) roles.
What Does Making A Booking on Trip.com Look Like?
As already mentioned, we've made numerous bookings on Trip.com over the years. Here's what will happen after you have made a flight or hotel booking.
Flight Bookings
Confirm your selection, and make payment.
After payment you'll receive an email letting you know that Trip.com has received your booking. (Another feature of Trip.com is that at this point you'll probably get taken to a page which unlocks a whole lot of cheaper hotel rooms as a reward for booking a flight).
Once the flight has been ticketed you'll get another email with the flight PNR and/or ticket number. Sometimes the ticketing is instant and you'll get this basically at the same time as the confirmation email, while other times it will take a few hours depending on the airline.
If you need to check your booking details you can do this via the website or mobile app from the "My Bookings" menu. Once you're in there you can get your PNR/ticket numbers, contact customer service, as well as seat selection and check-in on some airlines only. If these aren't supported for your particular airline just grab the PNR number and do it on the airline's own website.
In the "My Bookings" section you can also change and cancel your flight, if you've booked a flight which allows this. There's no need to talk to a customer service representative on the phone, you can do it all yourself, although I'm sure this is also an option if you really want.
Attached to one of the emails, you'll get a PDF receipt attached. You can also get this issued again (including with a company name on it) from the booking details page at any time.
Hotel Bookings
Confirm your selection, and make payment.
Once your payment has been made you'll get an email letting you know that Trip.com has received your booking. They'll probably try to cross-sell you some things right now such as airport pickups, car rentals and attraction tickets.
Once the hotel has confirmed your booking you'll get another email letting you know your booking is confirmed. For most hotels the booking is "Instant confirmation" however for some properties Trip.com might need to contact the property so it will take a little bit longer to get the confirmation.
From either their mobile app or the website you can cancel or change you booking, assuming that you booked a room which allows this. There's also often a method to chat to the hotel directly, or at the minimum a phone number. Of course you can also contact their customer service through here. Hint: Even if your booking is non-cancellable, Trip.com may be able to get it cancelled for free if you ask really nicely.
As with flights, you'll get a receipt attached to one of the emails in PDF form. You can, at any time, visit the booking details page on the mobile app or website and get another one issued in your own name or company name.

How can I protect myself when booking with Trip.com?

If you still don't trust them, you could try making a hotel booking which comes with free cancellation. Once the booking is confirmed you can double check by calling the hotel directly to see if they have received your order.

Besides flights and hotels, what else does Trip.com offer?

Trip.com is a full service online travel agency, much like Expedia, although it offers an even greater number of products. Besides flights and hotels, it also offers a flight + hotel service where you can book both products in one transaction to get a discount – we haven't tested this product yet. Trip.com also offers car rentals, airport transfers, attraction tickets and tours, train tickets for Europe, China, Korea and select other countries, gift cards and a comprehensive travel guide. In certain markets they also offer cruises.

If Trip.com is so big, why haven't I heard of them?

Probably because you're living in the wrong country. While Trip.com's largest markets have been in Asia over the last decade, it appears to be making bigger and bigger pushes into North America and Europe. If you haven't seen them advertising yet, you probably will soon.
In Summary: Is Trip.com Legit?

Trip.com is as legitimate as any other online travel agency. The fact that it's such a huge company, had been around for so long, and has relatively positive reviews when compared to its competitors shows that it's still going to be around tomorrow. More importantly, here at 9travel we've used Trip.com several times, for both flights and hotels, and never encountered any problems. We've also booked some of their minor product lines like car rentals, airport transfers and attraction tickets, and to date have always had a smooth experience.
Other Related Reading